Philadelphia Independence's Amy Rodriguez lobs the ball over goalkeeper Jillian Loyden to score her team's fifth goal.
Atlanta Beat's Aya Miyama leaps into her arms, while Washington Freedom's Sonia Bompastor, Chicago Red Stars' Cristiane, and Boston Breakers' Alex Scott give her high fives.
From the opposing team, Cat Whitehill claps in approval and Lauren Cheney offers her congratulations.
Only at the WPS All-Star Game.
Day 1
I arrive in Atlanta and share a shuttle to the hotel in Kennesaw with The Equalizer 's Jeff Kassouf and Boston Breakers' Kelly Smith, Alex Scott, and Lauren Cheney. Functioning with only two hours of sleep, I was counting on taking a nap in my room before heading out to the Welcome Festival downtown.
Not to be, as I realize I left my firewire cable back home and have no way to transfer videos to my laptop. For the next two and a half hours, I went on a quest to find the right cable (shout out to Adam, Embassy Suite's shuttle driver, for driving me to all the electronics stores within a 5-mile radius).
After checking the Centennial Park out where the Welcome Festival was held, I proceed to nearby sports bar STATS with Kassouf, ISI Photos' Howard C. Smith, and WPS Director of Communications Rob Penner for the league's first ever Pick 'Em Event.
As you can see in the video, fun was had by everybody. Some friendly trash-talking was exchanged, and a trade was suggested by Marta XI. The U.S. WNT...I mean Abby XI, however, refused as they chanted "No deal! No deal! No deal!"
Atlanta Beat players also came to check out how the Pick 'Em would go (shout out to Manya Makoski who had to leave early to watch The Bachelorette).
Day 2
With a 10 AM practice, the hotel's complimentary breakfast area was packed with players and coaches. After sharing a table with tweeps Natalie Smith and Jenna Pel, and stuffing my face with the breakfast of champions, I get ready for what would be a hot day.
Penner drives me, Pel, Kassouf, and Goal.com 's Giovanni Albanese, Jr. to the Atlanta Beat's home and the venue of the 2010 WPS All-Star Game, the new KSU Soccer Stadium. The Beat's Christa Mann gives us out-of-town media folks a private tour of the place. My take? Very, very impressive. Arguably the best stadium of that size in the country (but I think the grass is better at the Maryland Soccerplex...and that's not because I live in Maryland).
As it nears 11 o'clock, we go downstairs (and out of the air-conditioned press box ), to check out the practices of the two all-star teams in the sweltering summer heat.
Thank you Cat Whitehill for giving me a quick break from my job by doing the interviewing for me. What wasn't caught on video: Karen Bardsley getting injured. The Sky Blue FC goalkeeper took to the bench under the tent where she got her shoulder iced.
We would later find out the extent of the injury—six to eight weeks out? Yikes. Bad timing for the all-star starter and one of the breakout stars of the season. A huge blow for Sky Blue FC.
After practice, everyone gets ready for the Spain-Portugal World Cup match. Some stay in their rooms to watch, while others go out. I edit videos while monitoring the game on TV.
Headphones are always useful when editing audio, and while I was wearing these, I had no idea Erin McLeod was trying to contact me to move the venue of our interview. My bad.
Game over with Spain advancing (yay!) and I go downstairs to the lobby to do a video interview of McLeod for Connect World Football.
Quote of the day: "Mmm that's some great-tasting no-brand water," as McLeod drinks her bottled water on-camera while covering the label to prevent product placement.
While the all-stars have dinner at the hotel's steakhouse, out-of-town journalists are treated by WPS PR to dinner at Elevation Chophouse. The league office's new media experts Karyn Lush and Amanda Vandervort order the most interesting margaritas I've ever seen.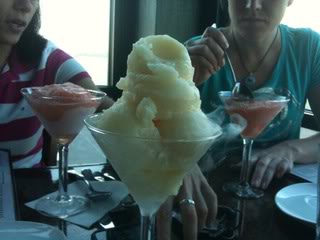 I get tempted to order one, however, I face a long night of editing so maybe not. Iced tea it is.
Great dinner with all of these soccer minds in one table. Notable topics of discussion that came up: a replacement for Karen Bardsley and the (sad?) state of the Boston Breakers.
Day 3
Finally finished editing videos at 4 AM, so I leave one video uploading on YouTube while I go to sleep.
I wake up at 8:30 AM, and it was still not done uploading. Basically I spent all morning and afternoon getting two videos to upload. Thanks, hotel's $10/day wi-fi connection. Thanks.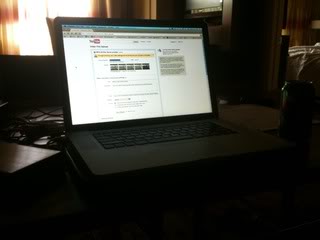 Game time and I take the shuttle WPS has arranged to get people from the hotel to the stadium. As we arrive at the KSU Soccer Stadium, I make a beeline to the press conference room where the all-stars would be having a photo shoot.
Quote of the day: "Can you see my wrinkle?" Abby XI head coach Paul Riley during his shoot.
I then proceed to the field to take some video of the warm ups. As the players get ready to walk out, I situate myself at the corner where I can sit while taking video. Along comes soccer legend Michelle Akers to greet Abby Wambach and Hope Solo.
That's right, I was a few feet away from greatness.
National anthem, intros, pictures...game on.
The team known as the "United Nations" come out victorious with a 5-2 final score. Flair won over chemistry tonight.
One thing I love about the WPS All-Star Game (ASG) was how much fun the players were having on the field. The exhibition game was not to be taken too seriously anyway. We see Hope Solo smiling after Marta scores the first goal on her, Whitehill yelling "Come on!" to Washington Freedom teammate and ASG opponent Bompastor after blocking the Frenchwoman's shot, and Breakers teammates and ASG opponents Lauren Cheney and Alex Scott sharing a laugh after fighting for a ball.
It's also great to see players who usually play hard against each other in WPS games (and even international matches), play with each other at the ASG. Rodriguez hugging Cristiane for assisting her goal? Marta passing the ball to Kelly Smith? What?
Only at the WPS All-Star Game.
Huge thank you to WPS for this awesome 3-day experience.